Rifle cases are vital for any gun owner. Not only does it protect your investment, but the best cases will do much more. However, choosing the right one can be tricky if you don't have a guide. With these pointers below, though, you'll be able to find the perfect case for your gun.
Beyond weight, size, and material, there are other essential features to look for in a rifle case. It should be easy to carry, contain compartments for ammo or attachments, and have straps or loops for tools. Read on to find the best rife case for your long gun.
Why Do You Need A Rifle Case?
With guns and ammunition being more accessible than ever, you must invest in a top-quality case to protect your investment. But before purchasing a new rifle case for AR Pistol/SBR, consider what primary purpose you want the case to serve.
What are you going to use the rifle case for? Is it for field hunting during duck season in November? Or is it just for storage or trips to the range? Your answer can help you decide whether to add it to your cart.
In my other blog, Guide When Buying A Rifle Case. I went over the different types of gun cases that will help you in your search for the perfect case.
How Do I Determine The Size Case I Need For My Rifle?
How can I ensure I purchase a suitably sized case for my rifle? The size of the soft rifle case you buy depends on your gun. Your rifle's overall length is the main factor in determining which size to get. To do this, grab a tape measure and be precise in getting the dimensions.
The easiest way to find the right height for your gun is by measuring the length of your gun from the buttstock's end up to the firearm's muzzle. This will save you from assuming that rifle cases sold at gun stores fit all sizes of guns.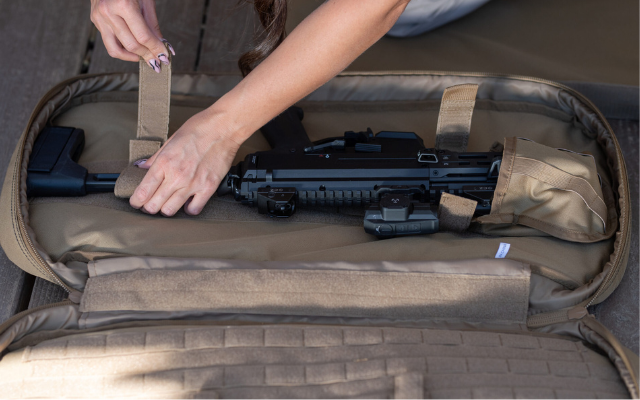 How To Choose A Perfect Rifle Case For Your Long Gun?
While individual preferences might differ when choosing a gun case, if you look closer, there are bags with specific features made for the purpose they will be used – such as how or where you use them and what materials/construction works best.
The Advance Warrior 28″ AR Pistol/SBR Case has extra protection, thick padded compartments, and a dual pocket system so users can add gear to fit their needs.
Rifles are a significant investment, so you want to ensure you have an excellent case to protect them. Here are the features that gun enthusiasts say are most important in a rifle case.
The Best Features of the Best Rifle Case
Functionality
The term 'functionality' when talking about gun cases refers to the various features and abilities of the case. Storage for additional magazines, a built-in strap, or even something as practical as a comfortable shoulder strap for easy transport is only some of such functionalities. For example, the Advance Warrior 36 inches single rifle case for AR-15 rifles comes with four mag holders and a Rapid Access Strap—both of which are essential to a shooter's fire accuracy.
Thick Padding
Thick foam padding can be a barricade between your gun and external pressure. It will also help prevent damage whether you drop your gun or it hits a hard surface. Additionally, this type of padding can assist in insulating your gun from temperature changes – helping to preserve its condition for an extended time.
Customize Foam
Customize Foam is an excellent feature for rifle gun cases because it allows you to tailor the foam insert to your specific gun. It means your gun will fit snugly and securely in the case. In addition, you won't have to worry about it moving around or getting damaged because it has extra padding and cushioning.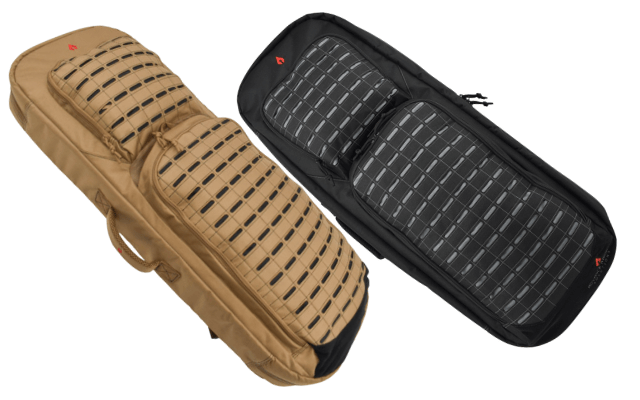 Solid Exterior
Gun cases need to be sturdy outside. The usual material is aluminum or Polyethylene (PE). It makes the case durable and prevents damage from impact, bumps, jostles, and protection from falls. They also provide security, as they are more complex to break into than soft cases.
Furthermore, owning a hard rifle case is beneficial for several reasons. For instance, if you frequently partake in safari shooting or are a competitive shooter who needs to safeguard your firearm during transport to competitions. Or you may want your gun secure at home. Regardless, a hardshell rifle case provides superior protection than other options available.
Reliable Strap
A gun case strap is a reliable way to keep your gun securely in place while you're on the move. Hunters and gun enthusiasts appreciate the stability and peace of mind that a good gun case strap can provide. When you're out in the field, you need to know that your gun is safe and secure, and a gun case strap can help you do that.
There are a few things to look for when choosing a gun case strap:
Ensure the material is durable and won't fray or break easily.
Choose an adjustable strap to customize the fit to your particular gun.
Look for a strap with a robust closure system, such as Velcro or buckles, to ensure that your gun stays put even if you take a spill.
With these factors in mind, you can confidently choose a reliable gun case strap.
Solid Stitching
It's essential to choose a gun case with solid stitching. The stitching must be tight and robust to keep the case closed and protect the contents inside. In addition, the gun case should be made from durable materials that will hold up over time. By choosing a quality gun case with solid stitching, hunters and gun enthusiasts can rest assured that their weapons are well protected.
Sturdy Material
To ensure your rifle gun case will protect your weapon for years to come, look for a material that is both sturdy and soft.
Not only should your gun case be able to carry the weight of your firearm, but it should also have extra space for any other supplies you might need. Furthermore, the case should be waterproof and resistant to damage from tearing or abrasion.
For example, the Raptor 36'' Rifle case of Advance Warrior is created from 600 DN PVC fabric. Plus, it has SPS zippers and double lock stitching for enhanced durability.
Gun cases can be made of different materials, including leather, Cordura, aluminum, or other metals. They may also be constructed with HPE or polyethylene fabric.
Heavy-duty Zippers
Whether you're an avid hunter or enjoy shooting at the range, a gun case with heavy-duty zippers is a must-have, as they're also less likely to break or come undone. In addition, heavy-duty zippers are made from more robust materials than standard zippers. As a result, they can withstand the wear and tear of frequent zipping, so you can rest assured that your guns are securely stored inside.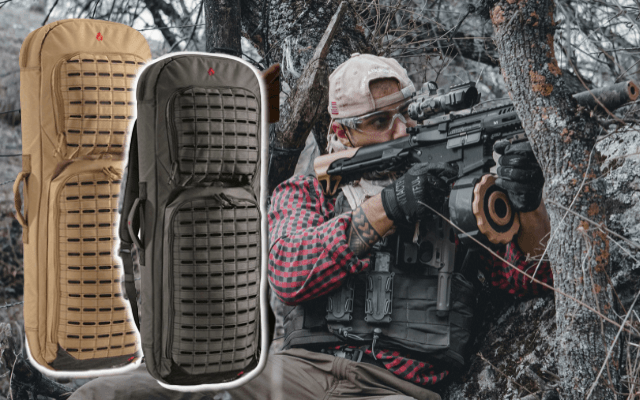 MOLLE Compatible
The MOLLE system provides a more efficient way of carrying equipment, allowing quick and easy access to all necessary gear. For example, a MOLLE-compatible gun case typically has many different compartments and pockets to hold various items such as magazines, ammunition, scopes, and other accessories.
This type of case is usually made from a durable material such as nylon or PVC. In addition, it often has a padded interior to protect the gun and its accessories. When choosing a MOLLE-compatible gun case, selecting one large enough to accommodate the type of gun you own is vital.
Additionally, you should consider the weight of the case and the amount of space it takes up. If you are planning on carrying a lot of gear, consider a case that serves this purpose.
Fashionable and Functional Design
A gun case isn't only practical but can also be a fashion statement. It has plenty of space to store your firearm and all the necessary supplies like ear protection and cleaning equipment. Plus, it should be easy enough to lug around with a comfortable strap or handle. Furthermore, you want a gun case that matches your style. With such a wide array available, you can find one that suits your taste and needs.
Final Thoughts
If you own a gun, you understand how crucial it is to have a reliable and robust gun case to keep your firearms safe. However, with so many different types and styles on the market, it can be hard to know which is right for you.
This blog post has given you some things to consider when choosing a rifle case to help you make an informed decision. Consider your gun type, how you will use it, and what features are essential. Then, with some research, you can find the perfect rifle case to fit your needs.