Every gun enthusiast needs to invest in a good rifle case. If you have just purchased an AR or are new to firearms. There are two primary types of rifle cases on the market: hard and soft. Each offers distinct advantages and disadvantages; which will work best for you depends on your needs and purpose.
Soft Rifle Case
The main appeal of soft shell cases is that they let you carry your gun discreetly like you would a backpack. Plus, they have features that fit every gun owner's purpose and need. And like their counterpart, soft rifle cases have several advantages.
Distinct Advantages of Soft Rifle Cases
Lightweight
The main advantage of the soft case is that they're lightweight and more comfortable to carry than hard cases. If you're doing a lot of walking or hiking with your rifle, a rifle bag with backpack straps is a way to go because it can be easily stored and transported without taking up too much space. You can roll them up for storage too.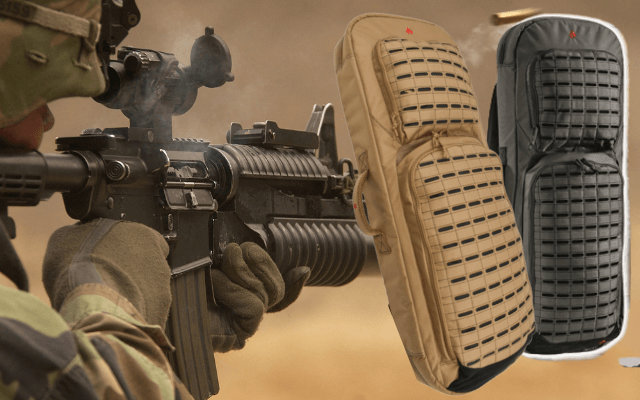 Durable
It is not deniable that most soft rifle cases have reliable materials. You will find more waterproof soft rifle cases from heavy-duty polyester or nylon, offering excellent firearm protection.
Double Padded
Other designs in the market have thick padded straps or removable shoulder straps for comfortable carrying. A padded divider help prevents the gun from being damaged by any knocks or jolts that may occur in transit. Some double rifle bag designs feature a removable center divider pad to accommodate two rifles. Hence, it can support the firearm and any accessories that gun owners want to keep. Plus, the removable backpack straps also let you carry your rifle hands-free on the go.
Holds Securely
Unlike in the past, gun enthusiasts shun away soft cases for lacking the ability to secure a rifle as efficiently as a hard case. But this is no longer the same today because Rifle Case w/Backpack has secure velcro straps inside for holding weapons fixed and secured in place during transport.
Double Stitch and Quality Zippers
Most manufacturers reinforce their stitching and use high-quality zippers to create additional protection for your AR-15, so you can be confident it will stay securely inside the case.
Customizable
There is also a soft tactical rifle case that offers more versatility regarding how you can use them. For example, you can easily strap a soft case to your vehicle, motorcycle, or even ATV for easy transport (something that's much more difficult with a hard case).
MOLLE Webbing
The most popular feature of the soft rifle gun case is its modularity due to MOLLE webbing ( also known as PALS, or Pouch Attachment Ladder System). The MOLLE system offers a superior way of attaching pouches, holsters, and other gear in an organized and customizable way. Plus, it's solid and durable enough to hold all your gear during strenuous activity.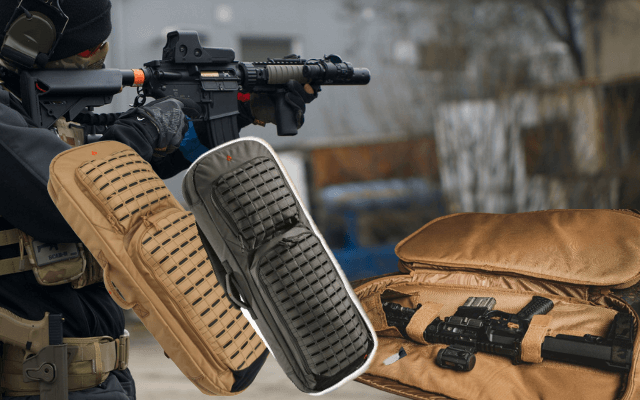 Adequate Storage
Soft cases provide extra space to store add-ons, like magazines and ammunition. Also, have ample room to carry all your equipment and enough compartments or pockets to store magazines, tools, cleaning supplies, and other accessories.
Convenient
Soft cases are also much more convenient and make transporting your weapons easier. They usually have excellent padding without making the gun too heavy and protection from the elements, so you know your weapon is safe no matter where you take it. Plus, you can roll it up for storage when unused.
Varied Designs and Sizes
With a soft rifle bag, you don't have to worry about sizes as it has various designs and different shapes and heights to fit guns. You need to get the exact measurement, though.
But if your AR-15 is longer than the standard 28 inches, you'll need to find a rifle case that fits and opt for frame 36'. Remember that fit is everything when buying a soft case for an AR-15. The last thing you want is your rifle jostling and rubbing against the sides of the bag every time you move it. So, how do you buy the right size? 
Buy the Right Size
Even if the soft cases have plenty of edges, gun owners should remember that the fit is everything when buying a soft case for an AR-15. Let's face it, who wants a rifle jostling and rubbing against the sides of the bag every time you move it.? But how do you buy the right size?
Firstly, measure your rifle. Measure from the buttstock to the end of the muzzle. This measurement is your total length. Then, measure from the foregrip to the buttstock. This measurement will give you your maximum height.
After you've got your measurements, look for a soft case that is long and wide enough to comfortably fit those dimensions, with a little bit of extra room for any accessories.
With the correct measurements and extra features, you can be sure that your AR-15 soft case will provide the protection and convenience necessary for transport.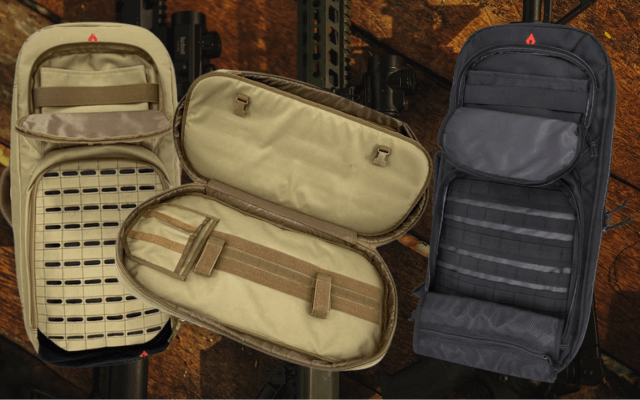 Cons of a Soft Gun Case
There are a few drawbacks to owning a soft gun case. They often don't come with locking systems, which could pose security issues if you're carrying your firearm in public or unauthorized persons have access to it. Additionally, it can be challenging to travel with a soft gun case when flying for shooting competitions outside your state, as most planes follow the directive from Transportation Security Administration (TSA), which mandates putting your gun in a hard case for security purposes.
Final Thoughts
Soft rifle cases offer several advantages over their hardshell counterparts. Here are the most popular benefits it provides to gun owners;
It can provide a great standalone option for those who need to store or transport their AR-15.
They are thick padding rifle bags.
They have a customizable adjustable shoulder strap. It can turn into a carry handle. Convertible to backpack-style straps or shoulder straps.
Soft Gun cases come with convenient pockets and compartments that make storing ammunition, cleaning supplies, and other accessories easy.
They have many manufacturers offering different colors and patterns.
It has extra exterior pockets and compartments for magazines and other accessories, making it perfect for creating a custom storage solution specific to your rifle.
Soft cases are often more affordable than hard cases.
Whether you're a hunter, target shooter, or simply looking for an affordable way to transport your firearms safely and securely, soft rifle cases are a great option. With all these advantages, soft rifle cases are an excellent choice for any AR-15 owner.